Monitors for teachers
With the advent of online learning, all of the teacher's work has moved to the online world. This can be a tricky nut to crack if teaching is to be effective for the teacher themselves. MISURA monitors offer to facilitate online teaching and thus help to manage multitasking. A teacher can use the monitors when he or she wants to share a screen with students and also needs to lecture to them from materials that can be conveniently viewed on a second screen.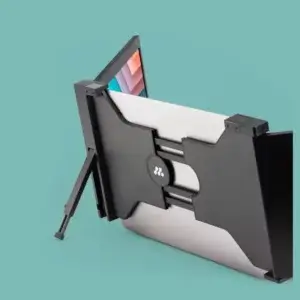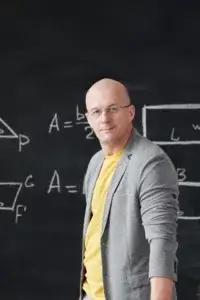 HOW DO MISURA MONITORS HELP YOU
WHEN YOU ARE A TEACHER?

Are you teaching online and need to view multiple connected students at once? Or do you need to monitor students while keeping the materials you are lecturing or dictating assignments from open? Do you need to interact with students while sharing their screen at the same time? Then three monitors are perfect for you.
In your work, you probably often show the results of your work to colleagues or clients. To avoid having to squeeze next to each other, simply flip the monitor over. Plus, you're in complete control of what you're sharing. Because your counterpart doesn't have to see the same thing you do, so you avoid any potential faux pas.
If you spend a lot of time at home and have kids, you'll appreciate the ability to let them watch a story on one screen while you work on the other two. You don't need a desk with a fixed monitor and another computer or tablet for the kids to use. All you need is one laptop.
PORTABLE MISURA MONITORS
Portable LCD monitors 10.1″
Portable LCD monitors – 10.1 ", Full HD, IPS, 350cd / m2, USB-C, HDMI, Low Blue mode. Suitable for laptops…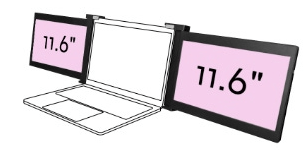 Portable LCD monitors 11.6″
Portable LCD monitors – 11.6 ", Full HD, IPS, 230cd / m2, USB-C, HDMI, Low Blue mode. Suitable for laptops…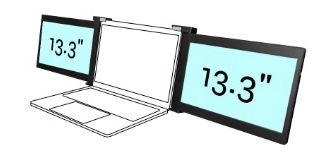 Portable LCD monitors 13.3″
Portable LCD monitors – 13.3 " ONE CABLE, Full HD, IPS, 250cd/m2, USB-C. Suitable for laptops of 13″ and larger.
New
Portable LCD monitors 14″
Portable LCD monitors – 14″, Full HD, IPS, 250cd/m2, USB-C, HDMI, Low Blue mode. Suitable for laptops with size from…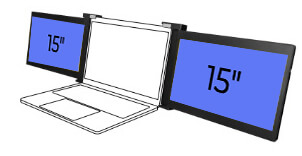 Portable LCD monitors 15″
Portable LCD monitors – 15″, Full HD, IPS, 250cd/m2, USB-C, HDMI, Low Blue mode. Suitable for laptops with sizes from…
Supported operating systems